Signature Lounge, Interior Design, Hanoi, Vietnam
The Signature Lounge project occupies a prime location on the ground floor of an apartment building facing the marina of Eco Park. The construction is  owned by a prominent family. Each member occupied a flat located in the upper floors. The project space is directly connected to the public plaza. The area will serve to host family events, informal gatherings. It will be as well the representative and public image of the family.
As program, the new room serves  as representative entrance of the building and a multipurpose space that can connect family members together. It also allows to host guests that are not invited to their more intimate spaces. The Signature Lounge is the heart of the residential building. It provides a first impression to guests and sets the tone for the family's brand.
A family's brand space
As a social space, we designed  the ground floor of the apartment building to accommodate a wide range of activities. : From business meetings to family interactions and solo moments. The space is vibrant and dynamic. It reflects the family's unique brand and character. Offers a variety of amenities and services, such as comfortable and various seating areas, bar, fireplace, piano, music, and bookshelf.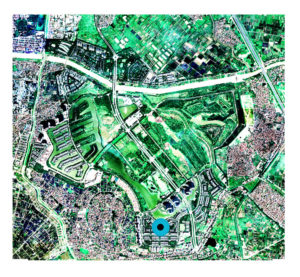 Beyond its functional role, the ground floor also serves as a social space where inhabitants and visitors can gather, meet, and interact. Its design balances functionality with the need to convey a sense of luxury, exclusivity, and sophistication. The Signature Lounge is an essential component of the family's brand identity. It's conveying a message of quality and excellence to its guests.
Architecture and Ambiance
To achieve a welcoming and warm representative space with contemporary architecture, the interior design project incorporates elements that can highlight personal decorative elements while creating a private feel and taking advantage of the outside views. We have accommodated both small and large groups, while maintaining a consistent level of comfort throughout.
The ground floor serves both as a domestic and public space. It was very important to manage these two antinomic aspects seamlessly. Large glass walls create a visual connection with the public plaza. This bring a generous a sense of openness, while the central fireplace acts as a filter. Placed  inside a monumental marble wall, the fire place marks a separation between exposed and more intimate areas. The space directly connected to the plaza serves as the main public area, while the bar and lounge area are located in a semi-private setting. The back wall behind the bar filters natural light into the space, creating a comfortable and inviting atmosphere.
From representative to social
Overall, the Signature Lounge serves as a unique and versatile space, capable of accommodating different functions and serving various purposes. It is both informal enough to facilitate casual interactions and meetings and representative enough to convey a sense of style and sophistication.