Le temps suspendu, Competition, Le Locle, Switzerland
As the development of public transport becomes a focus for the Le Locle City Council, La Place de la Gare has more potential than ever to become the emblematic entrance to the city.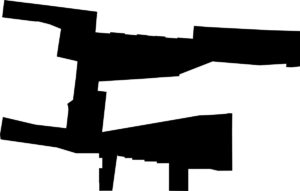 This transformation will provide the city of Le Locle a new communication tool capable of attracting visitors and testifying to the specificity of the area. Thanks to its new typology and the mass of activity it will generate; the future public space will offer a new centrality to the main railway station.
Composed of a "floor" and a "ceiling" made intangible by the use of steel wire cabling, the project unifies the entire station. This minimal intervention transforms a decomposed and irregular space into a homogeneous and representative plaza. The suspended cable system offers great flexibility of use, allowing a variety of materials to be suspended temporarily or permanently.
This design offers the city a charismatic entrance, using a sensitive and modest language to allow easy appropriation of place by its inhabitants.