Parks Office, Office Building, Hoa Lac, Hanoi, Vietnam
The primary goal of any office building is to provide functional and efficient workspaces for individuals and organizations. This involves designing a building that can accommodate the needs of a diverse range of tenants, while also promoting collaboration and creativity. One approach to achieving this goal is to prioritize flexibility and adaptability in the building design. This means creating spaces that can be easily reconfigured as tenant needs change over time. Whether that means adding or removing partitions, changing the layout of workstations, or adjusting lighting and climate control systems.

Another key consideration is sustainability. We designed the project with energy efficiency in mind. We aimed to utilizing innovative technologies. Then passive design will help to minimize energy consumption and to reduce its environmental impact. The typology we have chosen goes toward this direction.
Two Courtyard Blocks for one campus
The massing is made by two courtyard blocks that are directly connected with each other. These blocks mix office spaces, gardens, circulation areas, direct views of the rest of the campus, facilities, and intensive connections between different spaces of the site.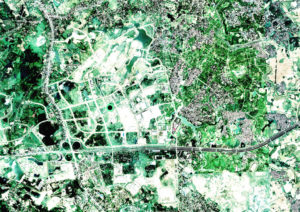 To prioritize the needs of the people who will use them, we are designing spaces that are comfortable, inspiring, and conducive to productivity, while also providing ample opportunities for socialization, relaxation, and personal growth.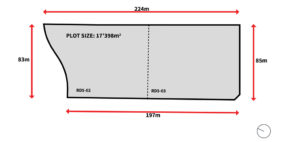 By creating an environment that supports both the physical and mental well-being of its occupants, our great office building can foster a culture of innovation and collaboration that benefits everyone involved.
A sustainable and flexible building
The recreation areas and circulation areas act as social connector. they serve at the same time as both recreational spots, informal meeting and working areas. The different types of spaces work at every scale of the project, with the generous central lawn serving as the main connector for the entire site.
The two courtyards located in the center of each building will be meeting points for the users of each building and flexible spaces that can host events, lunches, breaks, meetings, and relaxation.
Intensive connections
Within the building, smaller-scale green pockets, corridors, balconies, and lobbies will also act as supporting spaces for the team.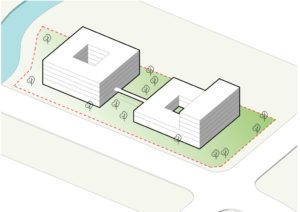 .
The location of the site, outside of the city, presents another significant challenge. Commuting will be long and inconvenient for the staff. Therefore, it's important that once on the campus, they feel comfortable and attractive in their work environment. All needed facilities are provided on site. For this reason, we have developed our project as a small city. Once in the site, the users will find all the elements needed to have a functional and attractive workspace. It will contributes to create a thriving workplace.