URBAN BLANKET, CARTE BLANCHE, Winter Wonders, JOSEPH GOBIN, PHOTOGRAPHER
This new « Carte Blanche » is a photographic dialogue in winter between the city of La Chaux-de-Fonds, a famous Swiss city located at an altitude of 1000 meters and built on a glorious industrial past, and the urban blanket of Multiply Office as told by Joseph Gobin through a "Photographic Carte Blanche".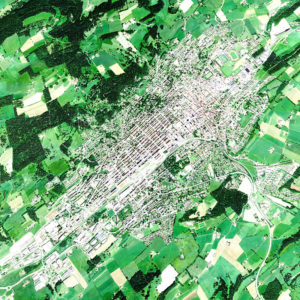 For this serie Joseph Gobin takes twelve shots in the heart of the Chaux-de-Fonds Winter. during 2 days he explored the city simply equipped with his analog camera, an urban blanket with a pattern reminiscent of the city's urban fabric, and as the starting point of the creative process: snow.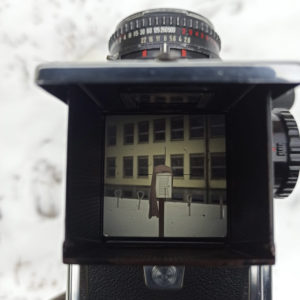 This natural and mysterious snow is symbolic in many ways. When it arrives, it covers everything in its path, and it can be seen very differently by different people. For some, it represents an erasure of identity, an obstacle to moving forward. For others, on the contrary, it is a sign of purification, renewal, and a beauty so pure that one can hardly touch it.
A Winter Journey Through La Chaux-de-Fonds
If you have had the chance to be in La Chaux-de-Fonds when the city is covered with its big white coat, you may have observed the atmosphere of calm and silence that settles in. The snow then absorbs the usual urban noises and replaces them with winter sounds. These sounds create a unique sound atmosphere. Steps crunch in the snow, bus chains hit and roll on the road, the noise of salt trucks can be heard. When cars pass on the roads, you can hear both the snow rising, melting, and carving. The city transforms for a few days, or even sometimes just a few hours, into an unreal and fairy-tale landscape that offers unique scenes to contemplate and listen to.
Snowy Perspectives
It is in this context that this photographic series takes place. Joseph Gobin plays with what snow generally evokes for us. This phenomenon that inspires creativity, imagination, and all kinds of winter sports. Children build snowmen. They hide behind cars to have snowball fights or slide on sleds, both on sidewalks and on hillsides. Residents bring out their warm clothes, wrap themselves in hats, scarves, and gloves. The luckiest ones equip themselves with an urban blanket!
This particular environment inspired Joseph Gobin for this new "Carte Blanche" in La Chaux-de-Fonds. In this series, Joseph Gobin immersed himself in this city, drawing inspiration from its unique checkerboard typology and the atmosphere that reigns there in winter.
Winter plays a prominent role in this "carte blanche". Here The urban blanket allows us to evoke and express this unique season: striking landscape contrasts, dazzling light that becomes rarer, lengthening shadows, not to mention the biting cold that stings our cheeks and invigorates us.
We can also observe these contrasts  between the urban environment of the city and the surrounding nature. It continues to quietly but actively live under this appearance of sleep, slowly preparing for the return of spring. Seeds are never far away. Animals await their food. Their tracks in the snow trace their passage, revealing their identity and habit.
12 Shot Storyboard
All of this invites us to dream and contemplate, and that is also what we find in Joseph Gobin's series. In some of the series' shots, the snow serves as a "studio" for the blanket, like a pedestal to showcase it. It evokes what each person sees. In other shots, the blanket seems to belong to the scene, like an element of composition among others. It help to  reinforce the feeling that winter is here and that things are freezing. Finally, some shots highlight winter activities, equipment, and the consequences that the cold has on our habits and way of life. Something that we only know by having the chance to experience these white and cold winters.
In 12 shots, Joseph manages to immerse us in this Chaux-de-Fonds winter universe. We feel the city's activity, its strength, and singularity, with the urban blanket guiding us and helping us escape.